Reading Time:
5
minutes
Let's start from the very beginning: the morning. After stumbling out of bed, showering, maybe shoving a protein bar down your throat, you leave for work. What are the essentials that you pat your pockets for? Keys, phone, wallet. We confirm that we have them every morning, so as not to be left stranded and helpless. As technology has rapidly enveloped every aspect of our lives, those three essentials have started to blur together. But while many of us still rely on a physical key to start our car or lock our house, only a few rely on physical money to pay for day to day necessities. The merging of wallets and phones has been prophesied for years, but it's getting closer to reality every day. Whether we ever fully merge them together or not, our wallets already look much different than they did twenty years ago.
Cash?
One of the biggest differences between the wallets of today versus the wallets of yesteryear is that your old wallet probably had a lot more cash in it. And no, it's not because things were better then or because you had a better job (although pizza delivery did have its perks). Cash is no longer as convenient. Instead of finding the correct amount, making change, and walking around with an annoying jingle to your step, you can just swipe a card. Additionally, while credit card fraud is a real risk, there is a name attached to every card. If your card is stolen, you can have the card deactivated and the charges potentially refunded. However, if someone steals cash out of your wallet, there's no way to figure out who did it, unless you caught them on tape or paid for extensive fingerprint testing. Also, you're less likely to "run out" of funds on a card the way you might with cash; you don't have to make a withdrawal from the bank to get you through the week, since you can just use your card; and you can even make purchases that you don't have all the funds for yet with credit, something you could never do with cash. Of course, it is possible to run out of available credit (and pay an over-the-limit fee for doing so), but as long as you frequently check your account balance, it's less likely than with cash. In fact, Americans are using cash less every year. Whether that's because cash is so inconvenient or because many people have multiple cards is up for debate.
You Get a Card… And You Get a Card… Everyone Gets a Card!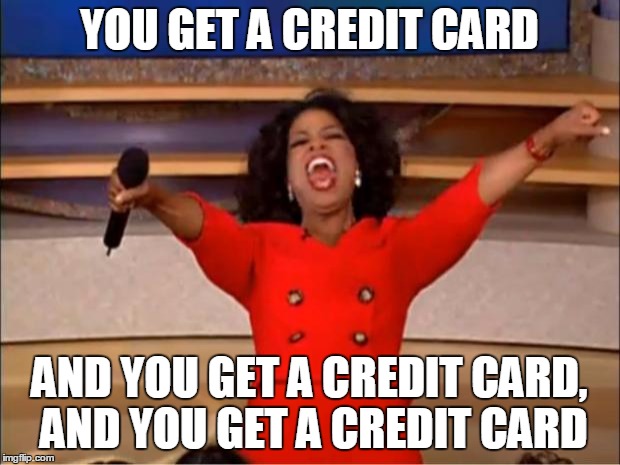 Many credit cards will offer you special rewards just for signing up. As such, many people sign up for multiple cards just to gain more miles or discounts. Others believe that having multiple cards will help their credit score or give them more financial flexibility.Assuming that you have a decent credit score and qualify for the best cards, having multiple cards can be advantageous. Since some credit cards give you better rewards for different purchases, it might be better to choose one card over another in that case. Also, you now have a higher total limit, since you can split your charges between several cards. Obviously, this can be a dangerous trap; just because you have a higher limit doesn't mean that you should hit that mark. The average American cardholder has 3.7 cards. Most Americans aren't carrying around seven-tenths of a credit card, so it's probably safe to say that the number is between three and four. Additionally, store credit cards are on the rise. This can be tempting to many who shop frequently at a specific store, since they'll often be store-specific perks and rewards. Despite these facts, American credit card reliance is actually on the decline. Although we might have a lot of credit card options, many Americans aren't comfortable using lines of credit in lieu of checking accounts. Instead, they've shifted their spending habits to a debit card. Even when using a credit card could be advantageous, some Americans are so credit-averse that they fall back on their debit card, when they actually should be building credit. For more tips and guides for building credit, visit our credit score resource center.
Would You Like Your Receipt?
Receipts serve as a proof of purchase. They were helpful ways to balance our checkbooks, secure major expenses, get reimbursed for work-related purchases, etc. That's not to say that they don't still serve these purposes. They just do it in a different way now. Not only are we more eco-conscious, but since we use digital payments more often, it only makes sense to ditch paper receipts. Most retailers offer a choice between a digital or paper receipt, and, especially for routine daily purchases, a digital receipt just makes more sense. They can be sent to your email, directly to your phone, or scanned from the original if necessary. This is a lot easier than searching through piles of thin paper when tax time comes around. Although it will be a while before a truly paperless economy becomes a reality, the trends are definitely pointing in that direction.Additionally, the purchases that you make on your credit or debit card can be tracked digitally as well. Your bank provides you with account statements, and you can likely access your account at any time with popular phone apps. Having a digital, almost real-time record of all your purchases in one place is much easier than sorting through receipts.
When Will the Phallet Become Reality?
With the introduction of services like Apple Pay or Android Pay, the world of a digital wallet looms closer every day. Apple Pay alone has grown 450% from 2016-2017. Phone-wallet hybrid cases are common, and only have room to fit your phone a few cards, and maybe a couple bills. The slots for cards are hardly necessary if you utilize mobile payments. Most of these apps essentially create an avatar of your card, providing you with the credit card numbers if necessary. What's more, digital payment options are becoming more widespread. As more retailers adopt digital payment, their usage will become more common as well. However, the digital wallet isn't likely to become a reality without a clear advantage. Pulling out your credit card is just as convenient as pulling out your phone. It charges you the same amount of money. Where mobile payments clearly come ahead is security. Although you are entrusting yet another important form of accessibility to your phone, it's for an important reason. Paying through your phone means that the retailer never sees nor stores your card information. Given the recent stream of credit card theft from several major retailers, all made possible through the use of physical credit cards, perhaps consumers and retailers will switch allegiance.Without a doubt, our modern wallets are evolving. Rather, our wallets are disappearing as they mesh with our phones. Everything physical is slowly becoming obsolete, whether it's dollar bills, receipts, or the wallet itself. It takes time for everyone to adopt to these new technologies, but ultimately doing so keeps everyone's financial information more secure and easier to access. These modern wallets are definitely more complicated than the ones of the past, but they're necessary given that improved technologies are also available to thieves, fraudsters, and that very nice gentleman from Nigeria who keeps emailing you for your credit card information. For now, you'll still be checking for the essentials every morning: keys, phone, wallet. But it won't be that long until you're only checking for one (or it's just been implanted behind your iris for ultimate security and access, but that's a whole other article.)
Want tips and guides for how to use your credit card? Check out our credit card resource center.
Want a FREE Credit Evaluation from Credit Saint?